My friends and I have spent the past semester...
What country is your state equivalent to? Click to... →
Top 10 FAQs about American Culture
Throughout my travels, I've encountered a lot of stereotypes about American culture. Most people are curious to find out if what they hear, read, and watch about the U.S. is true. No matter where I go, however, people usually ask me the exact same questions over and over.  1. Do Americans eat pancakes, eggs, and bacon everyday for breakfast? Apparently this is the typical breakfast shown in...
The Golden City of Frats, Churches, and Really...
Lessons I learned in Ouro Preto, one of the prettiest cities in the state of Minas Gerais: frats do exist in Brazil, the Portuguese are obsessed with churches, and you can not walk up cobblestone hills in flip flops. Ouro Preto (Black Gold) was founded by the Portuguese in the 17th century and was the site of a gold rush in the 18th century. The Europeans used the wealth from the gold mines...
In tribute to my lovely friends and the accordion...
Love Advice from my Host Dad
Fun fact: Today is "Dia dos Namorados" aka Valentine's Day in Brazil. Brazilians celebrate the holiday on June 12 because it's the eve of the death of Santo António, the matchmaking saint. With that in mind, here are some of the relationship tips my host dad has given me this semester: -Stop dating guys with Anglo-Saxon names. What, you're going to tell your parents...
Where do my parents live? The city of the... →
Floripa: Land of Secret Beaches, Hot Blondes, and...
When I told my mother I was going to Florianopolis, the New York Time's 2009 Party Destination of the Year, her response was, "Sounds mighty lively and lovely…but those hairless men in undies?! Please do be sensible, dear." With that advice in mind, Kaly and I set off on a 12 hour bus ride to the island of Santa Catarina, home to beautiful beaches and gorgeous...
A Friday night funk song: Tchutchuca in XR2 by...
How an Apple Pie Became a Metaphor for My Life
This semester I have learned a lot about myself. One of my most recent realizations is that I have to learn things the hard way. The first time I try something, I ignore other people's advice, make things complicated, and screw up a lot. However, because these mistakes are so horrendous/memorable, they stick with me and I know what not to do the next time. E.g.: Apple pie. Last year, I...
"Don't feel bad about people not thinking you're Brazilian. No..."
– Ali Dahlman, my favorite penpal
I Like it Like That: More Musings on Portuguese
As I enter my ninth month here, almost every day I learn a new idiom or amusing phrase in Portuguese. Here are some highlights: -in Brazil they use (!) as a punctuation mark that means "look how crazy that is." Ex: "United charged me $200 because my bag was 2lbs overweight (!)" -the idiom for "to kill two birds with one stone" is "matar 2 coelhos com uma...
Click this link. Your iPod will thank you. →
My New Life Plan
                      Today I came up with a new way to fulfill my requirement to serve the U.S. government in a diplomatic capacity. I'm going to open a chain of cafés across the U.S. and Brazil that will only serve two items, which I have deemed the national food of each respective country: peanut butter/grape jelly sandwiches and açai na tigela. The cafés will play a select playlist of...
"It was one of those March days when the sun shines hot and the wind blows cold:..."
– Charles Dickens
24 Hours in São Paulo, The Sequel
1200 Friday: Wake up. Have a samba dance party in my room, by myself, to start the day off right. 1400: Meet friends at artsy, historic movie theater to see "Lixo Extraordinario," a documentary about a man who photographed trash pickers in the landfills of Rio and sculpted their portraits in garbage. Highly recommended. 1700: Walk over to an Indian fast food restaurant, enroute...
Rollin' Down the River
In keeping with the song title theme, I bring you Amazonas Part Two: Water Adventures. After our misadventures in the jungle, we decided to stick to the river. Our tiny native guide, Fabio, took us piranha fishing, alligator spotting, and sludge paddling. Fabio (pictured below) exemplifies my favorite Portuguese expression, "suave na nave" or, in English, chill bro chill.  Our...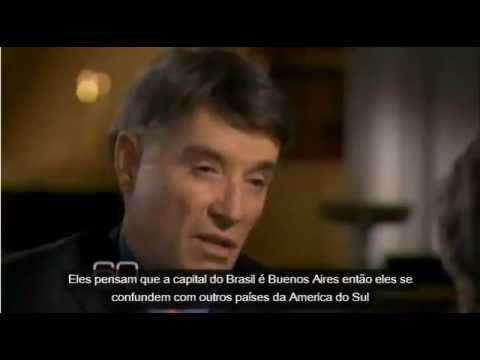 Five Embarrassing Things I've Done this Week
1. On my daily walk, I was singing "Pretty Fly for a White Guy" on a side street. Right as I passed by a parked car, I sang out "Give it to me baby! Uh HUH uh HUH" really enthusiastically. Then I noticed a guy sitting inside the car with the window down. I ran. 2. After saying tchau (bye) to a cute guy, I turned around to wave goodbye. In doing so, I walked straight into a...
A Saturday song: "Aguas de Março" by...
"When I saw you in that dress, I said to myself, 'God bless America.'"
– Ridiculous things Brazilian guys say to me
Welcome to the Jungle
When I was seven years old, I was obsessed with a computer game called Amazon Trail, which involved canoeing down the Amazon River and taking photos of exotic animals like capybaras and toucans. Ever since then, I've dreamed of visiting the Amazon Rainforest and living out the game. My dream came true in February, when I headed to the Manaus, the capital of Amazonas, Brazil, for a four day...
Let's Learn Portuguese...Primeira Lição
In high school, my friend Ali started teaching me "useful" Portuguese phrases that I would need to know when/if I ever got to Brazil. She would draw little cartoons with Portuguese captions like "Please help me, gypsies have kidnapped me and stolen my liver." Since I lack fine drawing skills, I decided to cheat and translate a photo caption from a blog I like, Depois dos...
The Perfect Perdizes Playlist, Part One
Since I have a lot of free time lately, I usually take a walk around my neighborhood for 2-3 hours a day. Along the way I see muscular guys walking cute little dachsunds,  businesspeople's impatient expressions as they wait for the buses, and strolling senior citizens who look at me like I'm insane because I whistle and dance as I walk. Here are my latest non-American choices, arranged...
Why I Love Fifteen-Hour Flights
In the past two and a half years, I've been on a lot of flights. While all the layovers, turbulence, and security checkpoints can be exhausting, somehow I always end up sitting next to awesome, interesting people that make the experience worth it. My seatmates end up spilling out their life stories to me, probably because I look super innocent and they recognize that we are stuck together in...
"You dance like a Brazilian, not an American girl."
– Best compliment I've received this year
Bargaining in Jaipur: Clinton-style
For my twenty-first birthday (celebrated in a city where the legal drinking age is 25), my mom, brother/bff, and I went on a shopping excursion in Jaipur, a city five hours south of Delhi. Jaipur is called the "Pink City," and was once ruled by Rajasthani princes, who actually believed in things like urban planning and infrastructure. Thus, there are sidewalks, making it a winning...
Mayonnaisacal Musings on Portuguese
As a follow-up to my "Random Musings on Spanish" post from Buenos Aires, some interesting Portuguese tidbits: -the phrase to describe when you get off topic is "viajar no maionese" or literally, to travel through mayonnaise. Apparently mayonnaise is the epitome of randomness. -placemats are called "American games" (jogos americanos) because Americans serve the...
Most ridiculous/amazing blog of 2011 →
Mr. Monk(s) and the Wells Family
Darjeeling: part two. The Wells Family squeezed into a little car to visit monasteries near Bhutan.  First up was Ghoom Monastery, located 8,000 feet above sea level. The monks are close to the heavens, even if they don't believe in the concept. A nice monk let me spin the prayer wheel to ring the monastery bell. Monks seem to love me lately. Prayer books inside Paintings...
Tea in the Parlor Makes the Ladies Holler
This year, we forewent a tropical Christmas (and 2 a.m. volcano hikes) and headed for the Himalayas to celebrate the birth of baby Je-sus. After a harrowing three hour drive up bumpy mountain roads, we arrived in Darjeeling, a town near the Indian-Nepalese border.  Darjeeling is famous for its tea plantations. The area was colonized by the Brits in the 19th century and became a hillside...
A fitting song, given the amount of time I spend...
"Is there anything, apart from a really good chocolate cream pie and receiving a..."
– Bill Bryson via Quote Book
How to Count to Ten in Hindi
India is now in India. Amusing. While I'm here, I have a few goals: -learn how to cook Indian food (samosas, dal, curries, etc) -get invited to an Indian wedding -refine my bargaining skills to buy pretty sandals and jewelry -pose in strangers' photos as the token firangi (American) -randomly break into bhangra dance in the middle of the street (like in Bollywood movies) -learn...
Picture Perfect Paraty
A few weeks ago, my study abroad program took us on our final trip: to Paraty, a historic town a few hours away from Rio. It's a teeny tiny town that was founded by the Portuguese in the 17th century as a port for the gold trade. Now, it's a tourist destination for honeymooners and groups of senior citizens who like quaint towns with cobblestone streets. While adorable, these...
Portuguese Fail of the Day
Today, I decided to go for a run while I waited for my chocolate bourbon pecan pie bars to cool. I went to my room and put on a cute running outfit, including the new socks my host mom brought me from France, because the park where I run has a high concentration of hot Brazilian guys with six-packs (I know this because they work out shirtless). I then walked into the hallway to grab my iPod and...
New obsession: English translations of the... →
A perfect Sunday song: Lero-Lero by Luisa Maita
24 Hours in São Paulo, By the Numbers
Observations on Paulista Avenue- 7: dreadlocked Greenpeace activists handing out pamphlets to men in suits 9.5: hotness rating of the 25 year old blonde carrying a Lisa Frank folder. So pysched someone is bringing back that trend. 8: policemen on the street corners chatting and checking out girls 2: high-school couples in uniforms making out at crosswalks  6.3: miles walked to/from class...